The Great Indian Bustard
In this example, the image will float to the right in the paragraph, and the text in the paragraph will wrap around the image.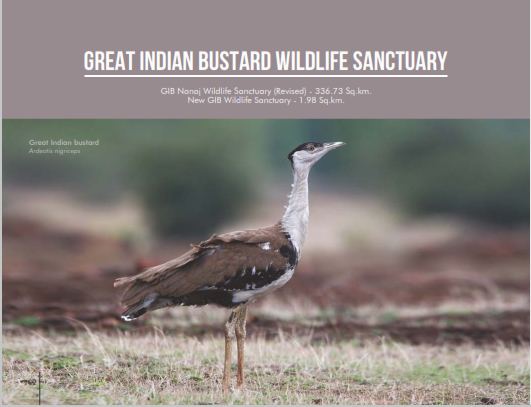 The Great Indian Bustard (Maldhok) is one of the rarest birds of Indian Sub-continent. The Bird is found only in some parts of Gujarat, Maharashtra, Rajasthan, Karnataka, Andhra Pradesh, and Madhya Pradesh States. The respective State Governments have declared the sanctuaries for the Great Indian Bustard. The Government of Maharashtra declared Great Indian Bustard Sanctuary in 1979 with the sole objective of conserving the rarest species of Great Indian Bustard which are endangered. The Sanctuary consists of the area of North Solapur, Madha, Mohol and Karmala Talukas of Solapur District and Karjat, Shrigonda, Newasa Talukas of Ahmednagar District covering a total area of 8496.44 sq.km. This bird has been included in the Schedule-1 of Wildlife Act 1972 and accordingly due protection has been given to this bird. The headquarters of the Sanctuary are Nannaj of Solapur District and Rehekuri of Ahmednagar District. The area of the Sanctuary is being reorganized in an effort to effectively protect the species. Studies using ringing GPS based telemetry are on process.